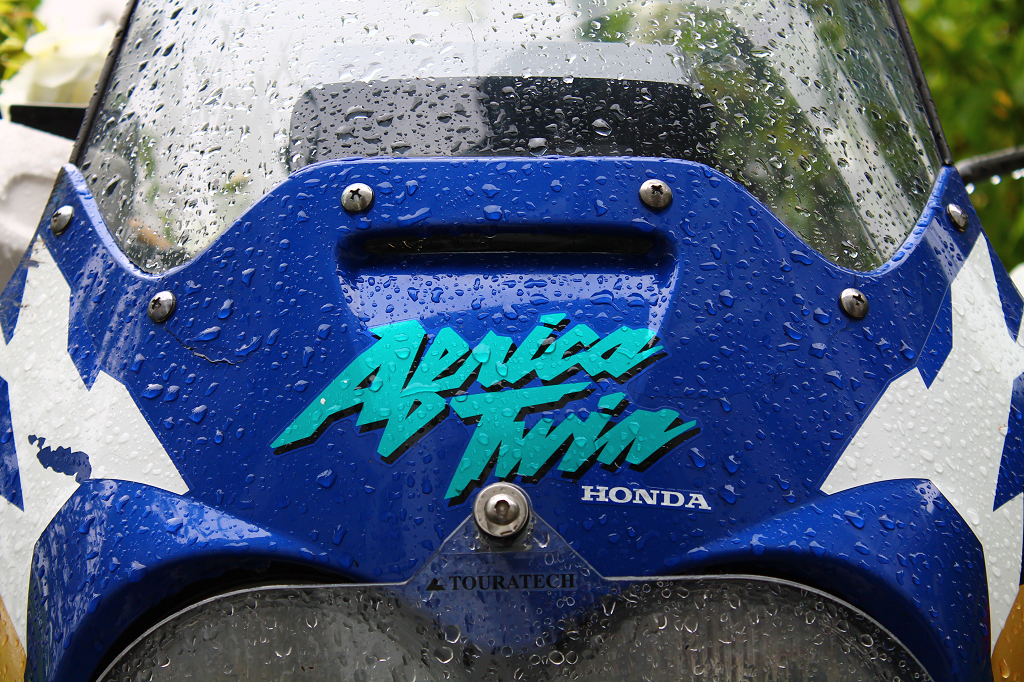 For this trip and hopefully the trips to come we decided to go with Hondas XRV750 RD07a Africa Twin.
Why? Well when looking on the internet and talking to people many will recommend this bike for its high durability and reliability. Definitely characteristics that are convincing when driving through the length of the African continent.
So, we went to a bike dealer who had an Africa Twin on display and had a test drive. Instantly the both of us fell in love with this bike. We were stunned how easy this bike handles and how agile it is, despite its 229 kg mass. Additionally you get a very nice sitting position,assuming you replaced the original torture rack with something proper. Then, covering a large distance is  a cake walk (well compared to the bikes we drove before that 😉 ). Some people complain about the lack of power of the Africa Twin, its true, with its 60 hp you will not win the MotoGP, but that's anyway not our goal. We do not intent to blast with 250 km/h through Africa (or any other place for that matter) and for our purpose less power means higher range per liter gas and longer lifetime of the engine.
When I (Topher) was a child I had to pass on my everyday way to school an Africa Twin parked on the street. I totally loved the looks of that bike (still do), which, I guess, is the main reason I got this bike 😀 .
To really get the bikes prepared for the trip we obviously had to do some modifications to them. We both were very lucky and got used bikes with plenty of useful modifications already installed.
Topher's AT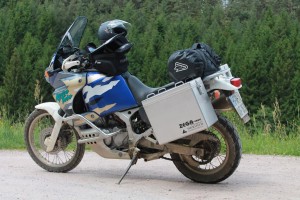 The pre-owner (Harald) did A LOT of good things to the bike:
Very comfi bench
Underpressure gas pump (the original one is known to fail)
Touratech pannier holder plus two Zega cases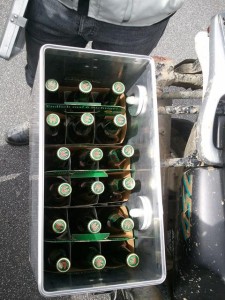 Crash bars
Higher wind screen (a bit of an obstacle when driving standing)
Daniel's AT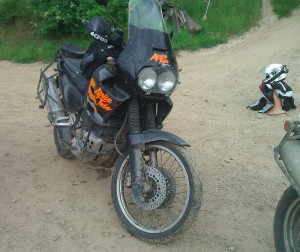 Crash bars (Hepco Becker)
Zarges boxes
Pannier holder QUICK-LOCK EVO (SW-MOTECH)
Gas pump (Mikuni)
Wind shield (Powerbronze)
New bench (Touratech)
New voltage regulator (also a weak spot of the AT, but there aren't much more)
 The front fender was painted black (it used to be white), that doesn't help much except for the looks 😀
Additionally we installed (or are going to 😉 ) on both bikes:
Stronger rear spring to deal with the extra mass of the luggage (Öhlins 95N/mm).
12 V plug to load and operate electronics while driving (laptop, communication, camera, air pump). The GPS is directly hooked to the battery (with a fuse).
Some luggage solutions (pipes, bags) still to come.
Scottoiler
Makrolon headlight protector (Touratech )
Hand guards (Acerbis)
Air filter (K&N)
Stainless steel brake hoses (Lucas)
Before departure the bikes get a full service and all wear parts will be replaced.