They say the hardest part when doing a long distance travel is leaving. We start to realise why. Not only do you leave your friends and loved once, but also the comfort and security of a home. Additionally, over the last week we faced all kinds of issues when preparing the bikes . Somehow every potently easy task turned out to be difficult due to thinks like stuff not fitting and the necessity of brute force or super tight screws that needed power tools to be removed. The Frankfurt dialect offers the fitting term for this condition with "scheiss gefuddel". Luckily, Daniels Grandpa has a very well equipped workshop and we made use of that!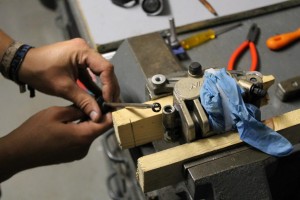 And, on the upside we do know the bikes in and out by now.
Daniel and his brother Timur installed a very cool technical gizmo on Daniels bike. Its called a Pi and is basically a small computer collecting data. Daniels Pi collects with two thermometers the engine and air temperature, logs our current GPS position, measures the battery voltage and, with a small camera pointing in driving direction, takes every 15 min a photo. The installation was far from plug and play but they managed to get the Pi going.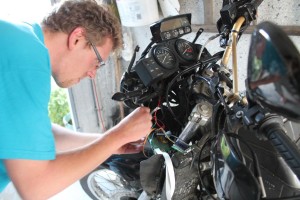 We returned to Frankfurt on Saturday night, very tiered. Starting our journey on Sunday was out of the question. I had some weird vibration in my front wheel and used the calm Sunday to disassemble the front wheel and check for potential reasons. Since I don't have access to a proper garage in Frankfurt I did the working on the street. After working for one week in a garage with perfect weather it of course rained. Plus, temperatures close to 30°C with almost 100 % humidity. Well, neverminde, training for the tropics and the vibration issue is gone as well.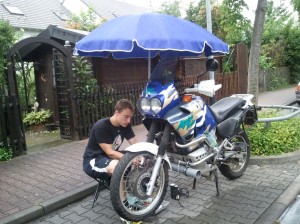 So we hope to leave tomorrow morning! Our first day will lead us to Stuttgart where we want to meet with David, a fellow traveller who will go the same way as we do on his BMW F650GS (the 800cc version, I don't claim to understand the BMW model naming logic) and we hope to meet again along the way in Africa. The night we want to spend at our common friend Bennys place in Stuttgart. The stop after that will be Freiburg and from there we will leave Germany direction south east.
That's the status for now. Oh almost forgot, the Sudan visa are ready and waiting for us in Freiburg.